In an RV, tools often are best if 12-volt powered, since the power circuit of your RV is 12-volt.
Here are a few good ones.
Compact vacuum
A 12-volt vacuum is a major convenience. Small, lightweight vacs are ideal when storage is at a premium. If you live in your RV only a few weeks a year, you'll probably use the 12-volt vac to keep things tidy. Rely on a bigger vacuum that works off 110-volt house current and is stored elsewhere for thorough seasonal cleanings.
You can go a couple of different ways: A dry vac, such as the Black & Decker BDH1200FAV, or in case of spills, a compact wet/dry vac, such as the Stanley Wet/Dry 1-gallon 12-Volt Vacuum.
Price: B&D, about $35; Stanley, about $40.
Compact air compressor
With the compressor, you can fill a compressed air tank or directly inflate a tire.
A compressor with a good compromise of capabilities, price and size is the Klutch 12-Volt High Volume Air Inflator 52509 from Northern Tool. It has a maximum 120 PSI capacity and 2.1 CFM airflow, both better than only slightly cheaper compressors. The cables with battery clips are 8 feet, and the coiled air hose extends to 16 feet, so you'll be able to reach just about anywhere you have to. It can fill a tire on a full-size pickup in a minute, and it can run uninterrupted for 15 minutes. In its carrying case, it takes up about 1 cubic foot. Price: About $65.
Rechargeable spotlight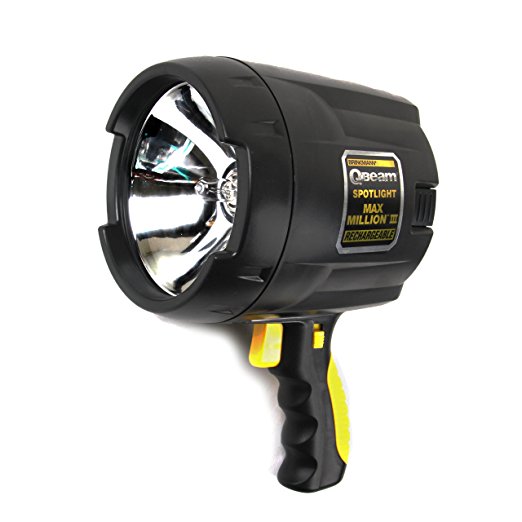 If you lose something tiny in the camper at night — an earring, maybe — or you have an emergency outside the camper, a really bright light helps. The Brinkman QBeam 800-2380-W handheld spot is rated at 1 million candlepower. It uses two lithium-ion batteries, so it's rechargeable, meaning it doesn't have to be tethered. It can be used while plugged into a 110-volt or 12-volt circuit. The batteries can be recharged while in the unit or while removed.
The plastic casing is tough, and the lens is tempered glass to resist breaking. The light and parts, including charger and cords, store in a vinyl bag.
Price: $69.
ThermoElectric Cooler
This is great if you have no refrigerator, or if your built-in refrigerator is too small. A 29-quart cooler can store two or three days of food to help keep you on the move without having to stop for restocking. Or it can hold 28 12-ounce cans; that's a lot of beer and soda if the party ends up at your campsite. It cools to within 40 degrees of the ambient temperature.
The Koolatron Voyager Cooler doesn't throw off a lot of heat. You can use the well-insulated fridge as a chest or as a vertical unit. The plastic casing cleans easily. It measures less than 18 inches square and weighs 13 pounds.
Price: About $120.
Some things to think about: If your product comes only with a cigarette lighter plug, or only with alligator clips for connection to a car battery, pick up the other type and an extension so you're ready for any use. An air tank will fill a tire faster, plus it can be used with a compressed air hose to blow things clean, so add a tank if you don't have one.