1) Ken Kesey and the Merry Pranksters - "Further"
This bus represents the counter-culture of the 1960's to many of us. The 1939 International Harvester school bus was purchased by Ken Kesey in 1964, and for the next 5 years it traversed the country in haze of tie-died rock 'n roll music. The bus made its final trip in 1969 (to Woodstock) and was then parked in a swamp on Kesey's farm. The bus's condition has deteriorated over the years, however, the bus has been moved into an indoor storage area where it is awaiting restoration. A second bus was created by Kesey in the 1990s and this can be seen in the photo at the top of this page (pictured next to the original bus).
2) President Barack Obama - "Ground Force One"
Prior to the days of "Ground Force One", the secret service would retro-fit rented buses in order to transport the president. In 2011 they purchased two buses which underwent an upgrade process that included adding secure communication capabilities as well as defensive and protective measures (which the Secret Service does not openly discuss). President Obama used the vehicle duing the 2012 election campaigns as did the Republican Nominee: Mitt romney.
3) Space Balls - "Eagle 5"
Although not actually a real motorhome, Eagle 5 still deserves a spot on this list thanks to some of John Candy's finest acting work. In the height of the Star Trek and Star Wars craze, this parody was a well-timed comedic ode to the genre. Also featuring Rick Maronis as a parodied version of Darth Vader, this movie was a few years ahead of everyone else when it came to poking fun at pop culture.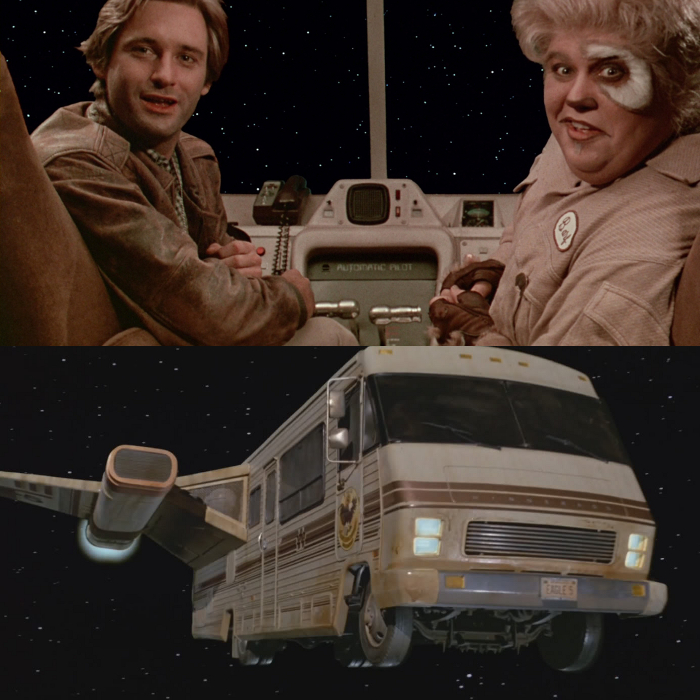 4) National Lampoon's Christmas Vacation - Cousin Eddie's RV
This was never the finest RV in the land, but it didn't have to be. Christmas is a time for family, tradition, and thoughtful gifts that show everyone how much you love them. And on Christmas Day, what else could be better than having your boss hog-tied, kidnapped, and brought to your home by your cousin. Well... here it is, pictured after being fully restored to it's illustrious screen condition as seen in the movie.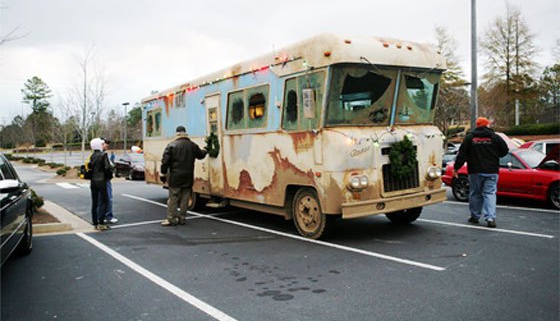 5) Meet the Parents - Motorhome w/ CIA Command Post
This movie was a big hit among young couples and newlyweds when it came out in the year 2000. It has made the list here thanks to the motorhome's built-in mobile CIA command post that we are all envious of. What do you think would be scarier? Getting married to the daughter of a human lie detector, or trying to gain the approval of someone who just had a secret command post installed in their RV?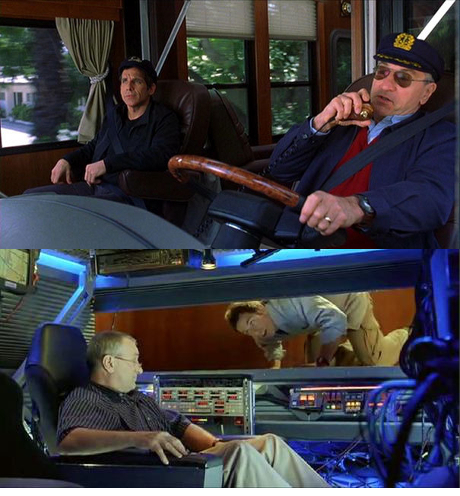 Image Credits: Creative Commons Attribution-Share Alike 4.0 International license with no changes made.