The drive to Crossing Creeks RV Resort & Spa — or any number of places you and your family may travel in your RV — requires keeping your children or grandkids busy.
A movie will take up a big block of time, but you're going to need more than that. Here are some kids travel ideas, some of which require very little to keep everybody happy, and some of which require just a little imagination. They get everybody to interact.
Plan interesting stops
Well ahead of time, look at a map, your GPS or Web sites to find good places to stop along your route. You'll need to stop anyway, for rest and food. Make some of those stops interesting places. A petting zoo, a public garden, a park or maybe a small museum would provide plenty to talk about. Before the trip, print out facts about the sites or the history behind them to spur discussion off and on the road.
Tell stories round-robin style
This can take up loads of time, and it's fun for everybody. Pick a person to start the story. For instance: "Once upon a time, a boy was born — with wings. He could fly high and far. Then he went to school, where he was the only boy with wings …" Then the next person has up to one minute to continue the tale — and the next, and the next — until it ends. Sometimes stories will continue for two or more rounds. You will do another story — guaranteed. Give each person a turn at starting a story.
Sing karaoke
Get karaoke discs online or at a store that sells CDs and take turns singing. Play the discs on a laptop and display the lyrics on your smart TV. A karaoke song sounds very much like the original pop song, but without the singer's voice. It's up to you and your kids to do the singing. The onscreen lyrics light up in time with the music. Just follow along and belt out a tune. Chances are your kids will know the songs already, but having the lyrics onscreen will inspire confidence. Add a microphone for even more fun. And don't forget to clap or cheer for each performance!
(This is how karaoke lyrics will look on your TV, helping everyone sing along as the words light up in time with the music. You can buy discs with kids songs, pop and country hits, and songs of faith.)
Make your kids discoverers
This is a fun way to get your kids to actually look out the windows while traveling. Look up places along your route and download photos of landmarks from Web sites. Print the pictures out, put them in folders, and give a folder containing all the landmarks to each of the kids. Don't pick too many sites, and make sure they're all in just a part of the route, so discoveries don't take too long. The first person to spot a landmark gives the photo to Mom or Dad, Grandma or Grandpa — whoever is not driving. Place each photo of a discovery in a notebook or folder and mark down who saw it first. Give a quarter for each landmark found, or maybe a dollar to the winner. Talk about each landmark and the history behind it as it is discovered.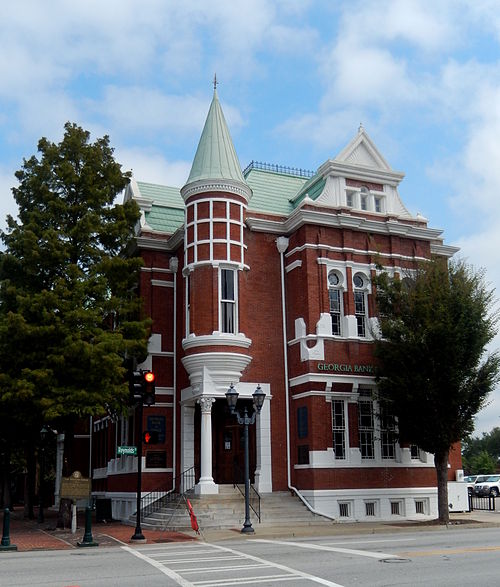 Turn your kids into discoverers. Print out Internet photos of historic places along your route, such as the Cotton Exchange Building in Augusta, to make rest stops interesting. Whoever "discovers" the building wins the point. (Wikipedia)
Before you know it, you'll be saying, "We're here!"