Types of Towables
Towables typically fall into these categories:
Fifth wheels
Travel trailers
Toy haulers
Expandables or popouts
Popup trailers
There are subcategories within each type and if you travel to Europe you'll find more terms like caravans and campervans. One thing that's clear is that just like motorhomes, more towable options are coming onto the market each year with more features and greater capabilities. Towables are greatly outselling the numbers of motorhomes that hit the road each year.
Here are the basic types of towables:
Fifth Wheels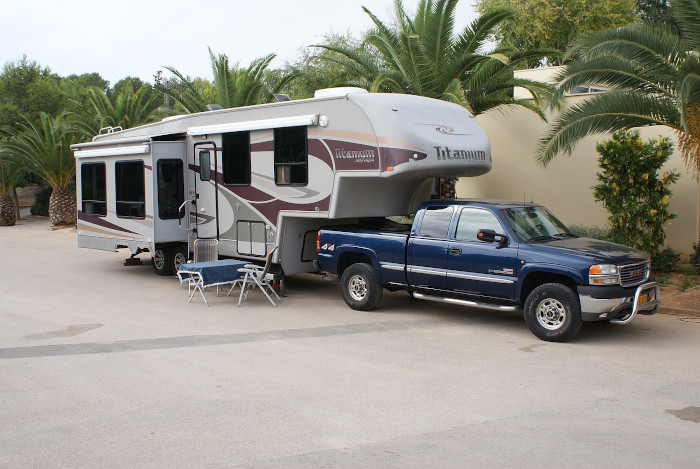 What is the difference between a travel trailer and a fifth wheel trailer? The main difference is the type of hitch that attaches the towable to your vehicle. The fifth wheel refers to the large coupling device that marries the towable's pin to the bed of your pickup truck. A travel trailer uses a traditional ball hitch. Although not all 5th wheel trailers are large, these include the biggest towables, up to 45 feet. These can offer the space and features of a Class A motorhome at a lower cost and they include some of the most luxurious models.
Advantages: Roomy, with sleeping space over the hitch, and especially spacious with multiple slideouts; first-rate features, often including a fireplace, dishwasher and full-size washer and drier; stability when towed.
Disadvantages: Higher price; big mass; loss of pickup bed storage to hitch; wide turning radius; somewhat more difficult to hitch/unhitch.
Travel Trailers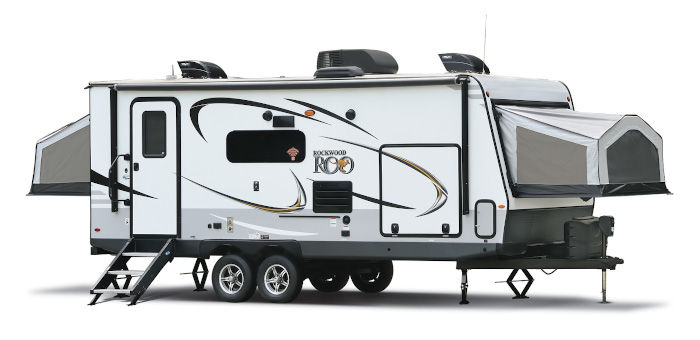 Known colloquially as "bumper-pull" trailers, travel trailers are the predominant RV type. They aren't really pulled by a bumper hitch, but instead by a ball hitch located under the bumper, or where a rear bumper would be on a tow vehicle. They range in size from 10 feet, or even less in some teardrop trailers, to about 35 feet. Smaller sizes are typically less luxurious but not as much as a few years ago. They often have bathrooms, full kitchens, a queen bed (either standing or fold-out) and a dinette that converts to a sleeper.
Midsize and large travel trailers up to 40 feet usually have one or more slideouts, making the interiors quite spacious. The smallest travel trailers, especially teardrops, may lack a bath or have a small wet bath. Teardops often have an outdoor kitchen under the sloping tail end that opens to form an awning. The interior is devoted mainly to sleeping, without a bath.
Related are truck campers, which don't get towed but instead rest in and extend beyond the bed of a pickup and have a sleeping area over the truck cab. That makes for a surprisingly spacious living area. Some are quite luxurious, and a few are four-seasons equipped.
Advantages: Ample floor space with stand-up headroom (except in teardrops), decent storage at an affordable price, smaller sizes are towable by mid-size cars or small SUVs.
Disadvantages: Larger sizes may be difficult to store; larger sizes may require a more powerful tow vehicle, possibly with diesel power; may be susceptible to trailer sway, requiring weight distribution at the hitch.
Toy Haulers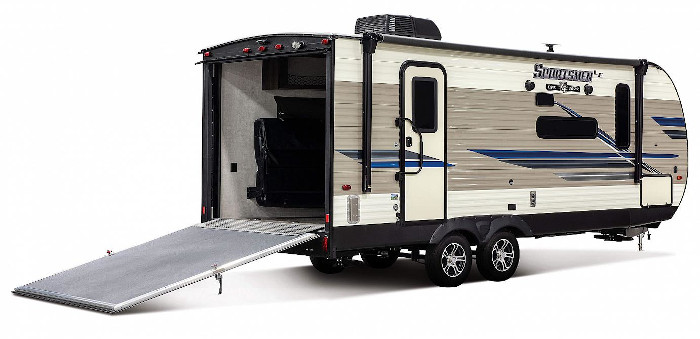 A toy hauler offers traditional RV living space and room to securely haul your four-wheelers, motorcycles, dirt bikes, bicycles, jet skis or even a sports car inside. The rear gate folds down, serving as a ramp to load and unload your wheeled treasures. The area often has sofas that fold up against the trailer's sidewalls to accommodate vehicles. In many, a partition separates the garage and living space.
Advantages: Space for hauling two- and four-wheeled toys without having to tow them on a trailer behind a motorhome; easy to store; easily unhitched so tow vehicle can serve as local transportation.
Disadvantages: Heavy rear load may induce sway, requiring weight distribution at hitch; interior may get muddy or dusty with vehicles inside; living depending on the weight of hauled vehicles, hefty tow vehicle needed.
Expandables, or Popouts
Sometimes called hyrbrids, these models look like a small to medium-sized rectangular travel trailer with one difference: They have one to three soft-sided, soft-topped popouts for sleeping. Some expandable trailers, despite their rather modest size, sleep up to eight people. They are equipped like a traditional travel trailer, often with luxurious trim levels.
Advantages: Easy to tow with minivan, SUV, some midsize cars, or 6-cylinder and sometimes turbo-4 pickups; easy to store; extra space without the expense of a slideout; easier to tow than a longer trailer with similar sleeping capacity; more space for daytime living without a bed taking up floor space.
Disadvantages: May not qualify for use in national parks where wildlife is a threat; less weather-tight when popouts are extended.
Popups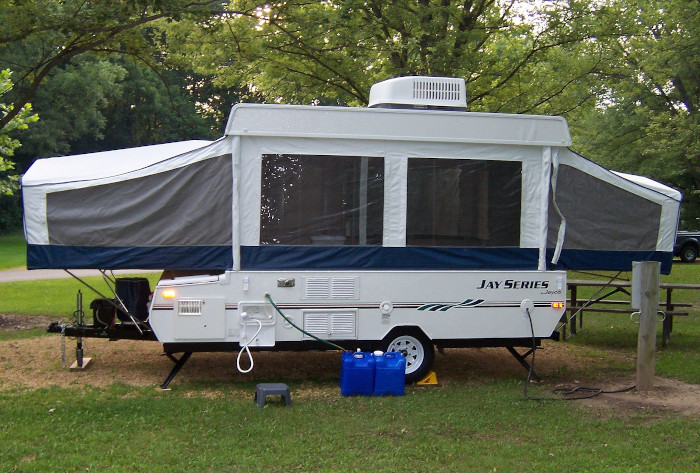 Popup trailers have been around for decades, but they've come a long way from the soft-sided popup trailers of the 1960s and '70s. They're not as bare-bones anymore, with more attractive kitchens, plusher sleeping accommodations and even indoor baths in some models. Most have a hard shell over the trailer that becomes a roof, and soft-sided, soft-topped popouts on two sides.
Newer hard-sided popups, also called A-frames for their shape when set up, are more secure and more comfortable, with better appointments and often an indoor bath, typically wet. Some have soft-sided popout dormers, but for a little higher cost, quite a few manufacturers offer hard-sided, hard-roofed dormers housing a bed or providing extra headroom over the dinette.
Advantages: Economical; efficient space, stand-up headroom; sleeping for up to six; ample storage for the size; totally hard-sided models qualify for national parks use and offer the same security as other travel trailers; hard-sided likely air-conditioned; modest weight and folded height ease towing, sometimes with midsize cars, minivans or SUVs, or with 6-cylinder or turbo-4 pickups.
Disadvantages: Many lack indoor baths; soft-sided models may not qualify for use in national parks where wildlife is a threat; despite mesh walls, interiors can get uncomfortably hot; soft-sided not as weather-tight; soft-sided less secure against intruders; may be barred from luxury RV parks.
Photo Credits: forestriverinc.com, kz-rv.com