An electric jack benefits you if you have a chronically sore back, arthritis, or maybe a traveling companion who doesn't really chip in as much as you'd like during setup and breakdown. (Hey, it happens.)
Jacks come in varying levels of power and quality. How much power you need depends largely on the weight of your loaded trailer. More specifically, it depends on the tongue weight. The heavier that weight, the more powerful you'll want your jack to be.
Logically, if you're towing a lightweight trailer or popup, power requirements—and prices—drop.
Quality should be a factor in any purchase. Prices may drop as power does, but buying a jack with more quality may keep the price a bit higher. Read online reviews of the models you're considering. If a number of reviews repeat a weakness in the jack, you can safely bet the problem is chronic with that model. Keep shopping.
When You'll Use a Power Jack
A power jack is used when you:
Hitch your trailer to your tow vehicle.
Unhitch your trailer from your tow vehicle.
Level your trailer front to back.
Can you do all of those things without an electric-powered trailer hitch? If you don't have a power jack already, you know the answer is "yes." But you also know that making any of those chores easier is not a bad thing, and a power jack does just that. It's highly unusual for a heavier trailer to lack a power tongue jack.
How Power Jacks Work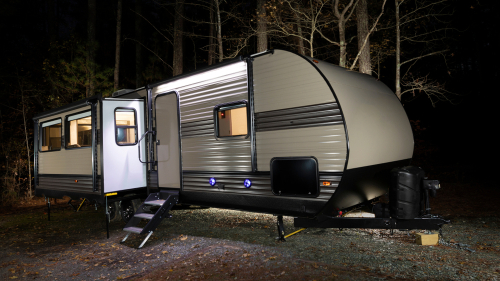 There's nothing especially complicated here. The jack must be bolted securely to the tongue of your trailer. It typically sits between the propane tank platform and the hitch at the very front of the tongue, nestled inside the "V" formed by the tongue frame. If you have a trailer without a "V" tongue, make sure the model you're considering will fit; not all will. Also make sure that when you remove the manual jack, the frame has a lower support bracket. If not, you'll have to have one welded in.
Wiring must be connected to draw current, preferably from the battery-powered electrical system of your trailer, at the reset breaker. An electric motor sits atop the entire unit. It operates with an on/off switch instead of the hand crank that's on manual jacks to turn gears against the toothed jack; sometimes the power jack also has an electronic remote controller.
If for some reason the motor or switch doesn't work, some but not all power jacks can be raised or lowered using a removable hand crank. If you want that reassurance, make sure the model you're buying has the feature.
Picking Proper Power
How much jack power do you need? Jacks are labeled for maximum weight capacity.
Follow these guidelines:
You must know how much your trailer weighs as it's routinely loaded, including water and waste tanks. You also want to be sure your trailer is loaded properly, with weight evenly distributed. The only sure way to know is to have your trailer weighed. If your tanks are empty, calculate the liquid weight at 8 pounds per gallon. If your load is properly distributed, tongue weight should be about 15 percent of the total.
Then, if you use a weight-distributing hitch, you may also need to increase the capacity of your tongue jack. That's because the jack must lift not only the trailer's tongue, but also the weight at the rear of your truck. Lifting the rear of the tow vehicle aligns sprung arms on the hitch with their brackets.
To be safe, err toward an overpowered jack, not underpowered. The motor on an underpowered jack may be prone to faster burnout.
Determining Size
You must make sure the shaft on any jack you're considering is the right diameter. It's easy. Measure the thickness of the shaft on your old jack or measure the opening in the jack support bracket on your trailer tongue. Then check the specs on a replacement jack or measure the shaft.
Other Features
Some additional available features, although not entirely necessary, can improve your experience:
LED light to ease use at night or in low light
Base to stabilize the jack during operation
Waterproof cover for the motor to protect it when it's not operating
Drive Safely!