Sapphire Valley Ski Resort, N.C | Website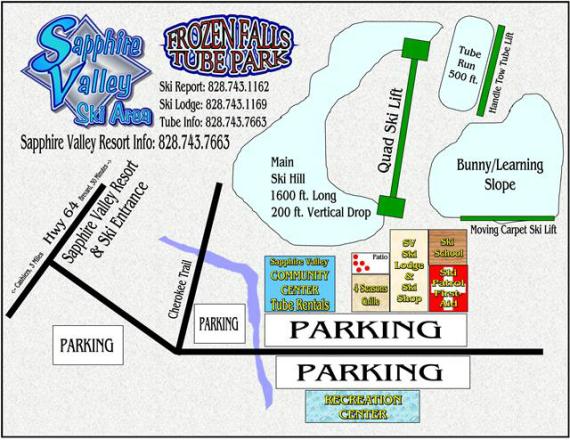 Only a couple of hours in your RV or car will get you to one of the best ski resorts in North Carolina. Sapphire Valley Ski Resort is a family-geared Blue Mountain resort that has gorgeous scenery. Even if you're not into skiing, there are other activities to explore year round. These include, golf, tennis, boating, zip lines, and even some shopping for those who are less outdoorsy. Keep in mind skiing is already closed for the 2016-2017 season due to the unseasonably spring-like weather arriving early.
Cataloochee Ski Area, N.C. | Website
The skiing area in Maggie Valley is considered the top place in the area to go for skiing and snowboarding. There are 18 total slopes that mainly cater to the beginner and intermediate skier. If you are more advanced, only 17 percent of the hills are "black diamond." Ski rental equipment and lessons are always available during the season. If you aren't a skier or if you have little ones that might enjoy tubing, there is Tube World nearby in the same resort. Currently they are still open for the 2017 season.
Wolf Ridge Ski Resort, N.C. | Website
Wolf Ridge Ski Resort is made up of 15 slopes that vary in skill. The views from the top of the mountain are georgious. This resort is Western North Carolina skiing at its finest. They are open everyday from 9 am to 10 pm, with slopes still running for 2017. If you want to check out exactly how the slopes look yourself before you go, you can always go to their website to look at the webcams they have placed at the base area.
Ober Gatlinburg Resort and Amusement Park, TN | Website
A little farther away is this resort in Tennessee. The Ober Gatlinburg Resort and Amusement Park isn't just skiing. It's a year round, full service resort that features exceptional dining, shopping, and other activities, including ice skating, wildlife encounters, and ski mountain roller coaster. You just have to experience this to believe it, but the fun you'll have here will be remembered always. Families will have a fantastic time at this much loved destination spot.
As you can see, it doesn't take very long to get to any of these fun-filled resorts for skiing or a variety of other activities year round. Surprise your family by planning a trip soon. Crossing Creeks Georgia is just a quick jaunt to any of them on the list, so you can plan a day of skiing weather permitting.