Parked or Stored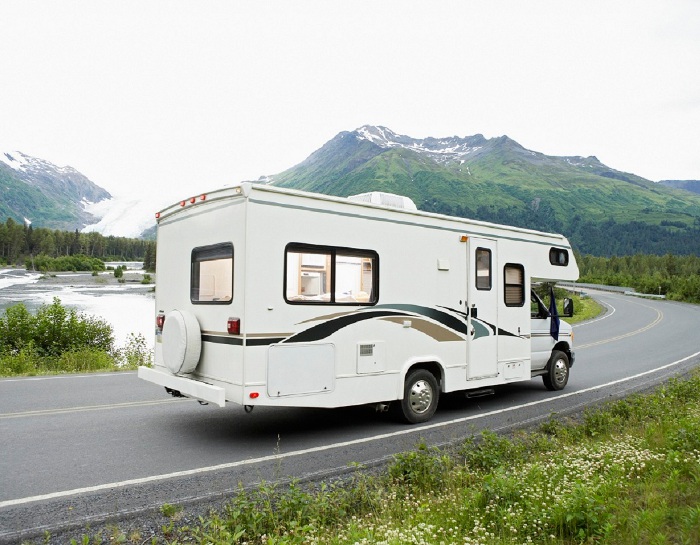 An important factor is how long the RV has been idle. If you're buying from a private owner, the RV may have been used periodically throughout the year, for other private owners, the unit may have been stored for months at a time.
If buying a used RV from a business, you'll want to know how long it has been inactive. Even though it may have low mileage, the fact it may have been sitting for long periods is not good. Mechanical equipment needs to be used, even periodically, to keep the inner workings running smoothly.
You'll need to know how the RV has been stored and on what type of surface. Find out it was kept under cover protected from inclement weather, blazing sunshine, and ultraviolet rays. Was it left unattended on a grass base where moisture from the ground causes rust to the underbelly resulting in rotting frames and stiff brakes.
RVs parked or stored on a cement or blacktop surface or placed on ramps are a better option than those that have dealt with moisture exposure.
Interior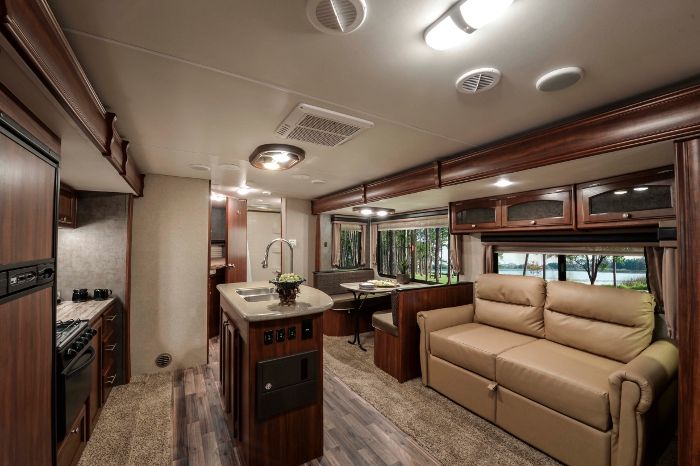 The interior should be clean which shows it is being maintained. The interior condition can be affected by the way it is parked or stored. Sure signs of exposure to excessive sunlight, high temperatures, and moisture include:
Faded colors on upholstery, carpeting and window dressings. Upholstery is brittle to the touch, fabrics are rough and no longer pliable, musty smell, and signs of mold.
Flooring that feels spongy.
Water damage on the ceiling, inside cabinets, and on the floor, especially corners.
Exterior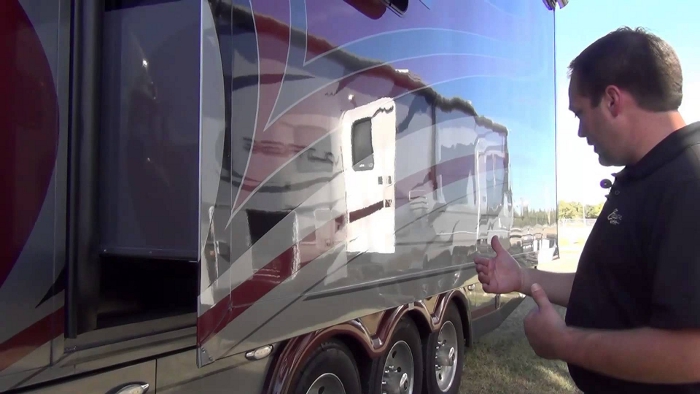 The exterior should not be chalky, faded, or discolored. This points to exposure to the sun while stored or parked.
If the RV includes an awning, open it to ensure the mechanism is working, and examine the condition of the fabric.
Are the entry door, windows, and any slide outs working properly?
If the RV has aluminum siding, check for loose or damaged panels. If fiberglass siding, check for peeling or separation.
Check roof and roof seals.
Appliances Turn on the refrigerator, stove, and microwave to check functionality. Check that the cooling and heating system works properly.
Test water lines.
Test bathroom facilities.
Check propane tank(s).
Under the Hood
Check the underbelly for signs of excessive rust which means the RV was not properly stored and moisture has infiltrated the frame.
Start the RV and look for any signs of smoke. If visible, this can mean an issue with oil consumption, leaking valve seals, or impaired rubber gaskets.
Under the hood, look for signs of leaking seals especially around the transmission area.
Check the wiring throughout the unit. During the winter, wildlife look for warm places to nest and the underbelly is a good choice especially if the unit is in storage. Some wildlife, such as squirrels and rats, like to chew on wiring.
Tires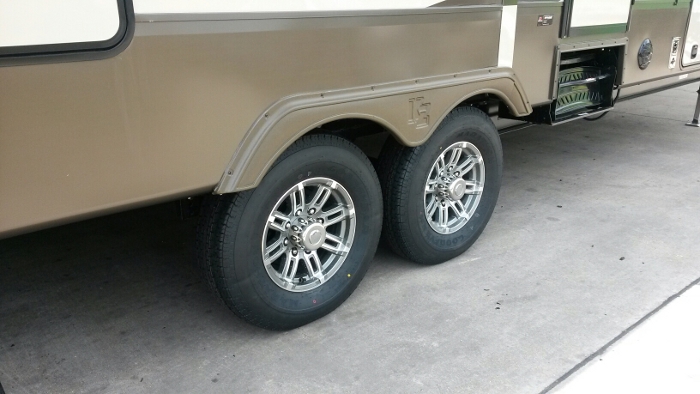 Ask for proof of age of the tires. Even if they look okay, there could be tire rot due to sun exposure.
Ask for proof of inspection of the brake system, axles and wheel bearings.
Miscellaneous
Ask when maintenance was last completed. You need to know of any previous issues, what was repaired, what hasn't been checked or repaired, and when the next maintenance check is due.
Also ask for proof of warranties or other physical paperwork validating the history of the RV.
The RV may have all the features and amenities you're interested in but if it hasn't been maintained could lead to a costly bill or result in a breakdown far from home.