1. Anna Ruby Falls Near Helen
At the meeting point of Curtis Creek and York Creek near Helen, Georgia, you will find twin waterfalls known as Anna Ruby Falls that separate and then recoup at the base near Unicoi Lake. The hike up the trail to see this incredible site from the top can be a bit trying, but it is well worth the trek. Once you have visited the falls, spend some time enjoying the sites and things to do in Anna Ruby Falls Scenic Area, which is a 1,600-acre natural habitat.
2. Cumberland Island in Southern Georgia
Cumberland Island is actually the largest and most southern island of Georgia. With more than 9,800 acres of natural scenic territory, there is a lot of wildlife to enjoy and undeveloped beaches to explore. Feral horses are known to roam this island, so don't be surprised if you spot a few roaming in the woodlands and galloping across the more secluded shorelines.
3. The Lunch Box Museum in Columbus
This quirky museum is located just outside of Columbus and is a favorite attraction for those with quirky interests. The Lunch Box Museum is brimming with metal lunch boxes collected from around the globe and is one site that will take you on a journey through the past.
4. Banning Mills Lodge on Whitesburg
Rustic cottages tucked away in lush forest or tree houses complete with hot tubs and comfortable amenities make Banning Mills Lodge an ideal place to stop off for a visit if you will be in the Whitesburg area. This lodge is also home to the world's largest canopy-view zip line adventure for those of you who are seeking a fascinating and thrilling experience.
5. Dawson Forest in Dawsonville
Dawson Forest itself is more than 25,000 acres with a lot of nature to explore, but deep inside this forest lays a secret hideaway for one of the country's oldest Air Force facilities that was once used as a place to plan nuclear weapons. Even though there is no secret weaponry still hanging around, you can still walk around the perimeter and take a look at the nuclear cooling plant that is sealed completely shut.
6. Bellwood Quarry in Atlanta
Just outside the bustling city center, Bellwood Quarry offers a spectacular view of a 45-acre water reservoir. This quarry is in the works to be one of Georgia's largest recreational parks in the near future, which will boast a sports and recreation field and public park settings, but for now, just viewing the massive reservoir and surrounding rock formations is a lot of fun.
7. Jekyll Island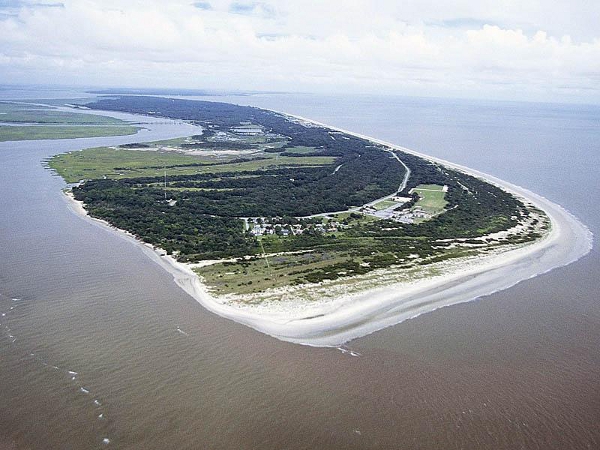 Take a journey through time to a place where life is simpler and more laid back when you visit Jekyll Island in Georgia. This lovely island is home to miles of beaches and maritime forests, but is also a natural habitat for some of Georgia's most unique marine wildlife. Even though the main parts of the island are filled with interesting things to do and see, there are plenty of places that are off of the beaten trail to discover. Plus, the island hosts a treasure hunt daily on one of the beaches in which children and adults can seek out artist-crafted glass balls that are reminiscent of fishing baubles that once washed upon the shores.
8. Chattahoochee River in Helen
Even though the Chattahoochee River is no secret spot, it does offer a lesser-known activity that is perfect for passing time on a summer's day. Float the Chattahoochee River on an inner tube and watch all your worries drift away while you bask in the sun and dip your toes in the cool water. For just $9, you can pick up a tube and drift a section of the Chattahoochee as many times you would like from one access point, but there are actually several tubing access points along the river to explore.