Sports Car Carrying Motorhomes
These vehicles allow you to fit a full size roadster vehicle inside of your motorhome. These cars are ideal for racing families that travel to spend a weekend at the track. Many motorhome owners are falling in love with these RVs just because they are able to bring a vehicle other than a Mini Cooper along with them.
Futuria Sport + Spa
This RV is built for long days at the racetrack. Aside from just carrying your track car along with you, this motorhome has one more signature feature that makes it ideal for its purposes. The roof of the motorhome converts into a fenced-in viewing area and it even has a spa built into the roof. Made in Germany.
The Volkner Mobil Performance Series II
Volkner manufactures several different motorhome models that are capable of carrying a car on your trip. One of the unique things about these RVs is that your car is stored underneath of the vehicle. When you want to access the car, a hydraulic platform drops to the ground (which also slightly raises the motorhome upwards). Next, a platform slides your car out sideways, allowing you to drive off. The process only take about 1 minute.
HR Multisport
The vehicles that are made by HR Multisport are built in the United Kingdom, and many are a cross between a toy hauler and a car-carrying motorhome. Bespoke vehicles are made to order here, so owners are able to get a vehicle made that fits their specific balance between living space and vehicle space.
Smart Car Carrying Motorhomes
While these are a step down from the full-size car carrying motorhomes shown above, all of these vehicles are capable of loading a Smart Car into their framework and making this part of your road life easier to deal with.
Ketterer
Volkner 1050 HG
Stauber Actro Liner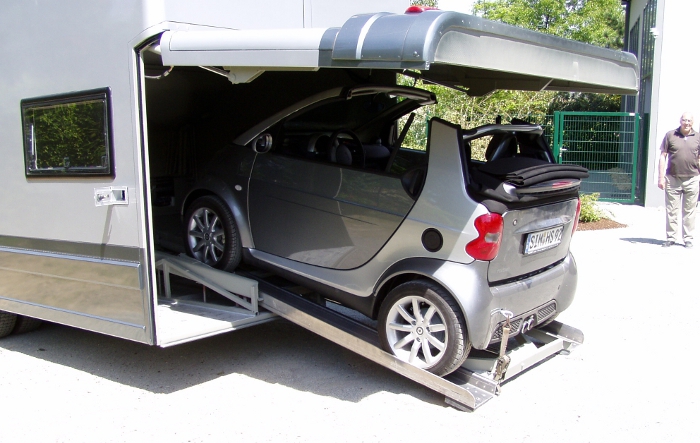 The Vario Mobil Perfect 1200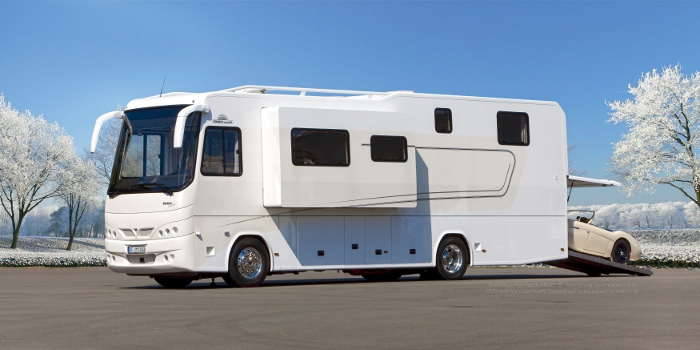 Concorde Liner Plus (Concorde)
Carthago