We all know that space in limited inside of a motorhome, so finding good solutions for storing and organizing everything that you want to have with you is always a priority task. Here are a few ideas for organizing the area around your kitchen cupboards. The space hanging below the cupboards and inside of the cupboard doors is an easy place to utilize for storage. We recommend storing your knives inside of a drawer like the one shown below instead of a countertop knife block, magnetic wall strip, or any other creative solution (we want to prevent flying knives in the event of an accident).
The Bathroom
Even though the amount of time that you spend in your motorhome's bathroom is likely less than any other area of the vehicle, this is a place that we like to "feel clean" and this includes not having items cluttered around the sink area. Here are a few solutions that you can use to tidy up the area and keep things organized.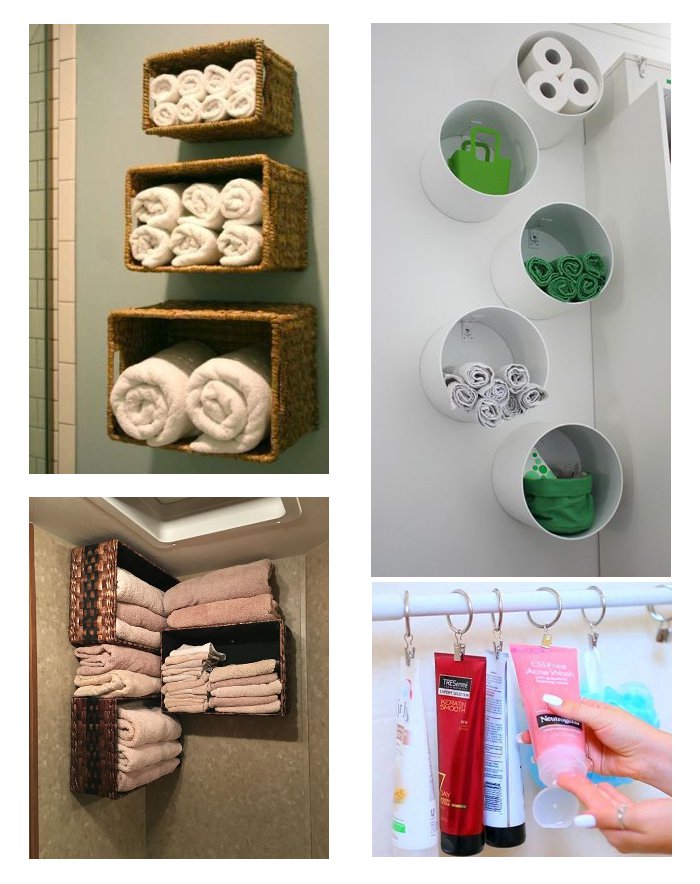 The Bedroom
The Exterior and Undercarriage
The outside of your RV is a place where getting creative can really pay off when it comes to increasing your storage space. One of the most popular DIY solutions here consists of a PVC pipe that is mounted on the bottom or rear of the RV. This is a great place for storing things like fishing poles and tents that need to be assembled. You can also see a photo below where the RV owner has mounted some pegboard inside of the undercarriage storage area. This will let you hang all types of small items like cleaning and maintenance supplies.
Installing a few of these holding clips in the underside storage compartments allows you to save space by storing brooms and other items here.