A few of these have sprung up around the Blairsville, Georgia area. Here are some within easy driving distance of the Crossing Creek RV Resort.
Buck's Corn Maze
Buck's Corn Maze is located at 1923 New Hope Rd, Dawsonville, Ga, about 45 miles south of Blairsville. This one is a simple 12-acre maze on a hilly farm with a great view of the Appalachian Mountains. The maze is bounded by Cochran Creek on one side, and hay rides will take you along the creek after your trip through the maze. On Saturday nights in October it is haunted, so bring your flashlights and whatever ghost hunting devices you may have handy.
Uncle Shuck's Corn Maze
Uncle Shuck's Corn Maze is located at 4520 HW 53E in Dawsonville, approx. 45 miles south of Blairsville. This one has a large corn maze where you can get very lost. It is also open at night, which adds to the fun. A large pumpkin patch is also available for your fall decorating needs. A corn cannon is fun to see as well. Also on some nights the maze in haunted. After exploring the haunted maze, take a hay ride through the countryside, and enjoy roasting marshmallows by a bonfire. Kids can feed the goats while parents shop for holiday decorations.
Buford Corn Maze
Buford Corn Maze is located at 4470 Bennett Road, in Buford. It is about 70 miles south of Blairsville, and has two types of mazes. One maze is a standard corn maze that is a complicated maze that offers hours of fun, day or night. There is also a haunted forest you may explore, with many kinds of ghosts, ghouls and goblins behind the trees to give you a hair raising experience. Hay rides are available with a lot of kids games, like a popcorn jumping pillow.
The Corn Dawgs Corn Maze
The Corn Dawgs Corn Maze is a bit of a drive from Blairsville at 100 miles to the south, but it offers a lot of extras. It is located at 955 Leone Avenue in Loganville. There is a seven-acre maze that has been there for a few years, and on weekend nights it is haunted. In addition to the maze, there is a pumpkin patch, hay rides, a petting zoo, jumping pillows, a mountain slide and a host of other kids games to enjoy. Of course, adults may enjoy the kids games just as much. There are 30+ activities to enjoy along with the maze itself.
Warbington Farm
Warbington Farm is home to the Forsyth County Corn Maze and Pumpkin Patch at 5555 Crow Road in Cumming, Georgia. It is about 60 miles southwest of Blairsville. Their 10-acre maze is a little different each year, so visiting more than one year could be fun. The maze is not haunted, but you can still have fun with your flashlight at night. The maze is divided into three parts, and each one is a little more difficult than the other. There are hay rides, and you can help feed the cows. Included is a fun park for the kids with a lot of games involving corn, pumpkins and other fall related materials.
Jurassic Jaemor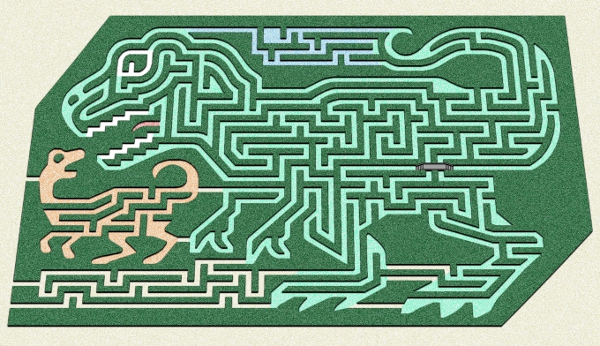 Jurassic Jaemor corn maze is on the Jaemor Farm at 5340 Cornelia Highway in Alto, Georgia. It is 60 miles southeast of Blairsville. This is one of the most popular mazes in North Georgia, partly due to the maze being in the shape of a dinosaur. This is a year round working farm, and you may pick your own produce throughout the year. They also have a wide selection of homemade jams and jellies. The corn maze is large and interesting, and there are maps available. You may do the maze only, or get a full pass for hay rides, the pumpkin train, petting zoo, farm slides, skeeball, duck races and take a turn at the apple cannon.