North Georgia Wine Regions
Like choosing a fine wine, North Georgia offers a diverse selection of flavorful vineyards and wineries eagerly waiting to please your palate. From rich Merlot and light Chardonnay to smooth Cabernet Sauvignon the choice is yours as you travel the beautiful highways, byways and less traveled back roads in Rabun, White, Lumpkin, Gilmer, Towns, and Union counties. Enjoy a day trip, weekend getaway, or an extended adventure traversing the lush landscape while savoring the flavor of the north Georgia wine culture.
Rabun County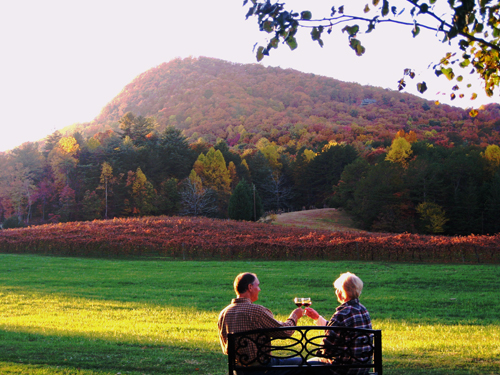 Tiger Mountain Vineyards has received numerous awards for its wines since 2001. Open year-round, enjoy the robust flavors of the homegrown grapes in the tasting room from 1:00 to 5:00 pm during the week and 11:00 am to 6:00 pm on Saturday. Depending on the time of year you visit, the chef at the vineyard's Red Barn Cafe serves delectable cuisine for lunch, brunch and dinner.
White County Yonah Mountain Vineyards, near Cleveland, is just minutes away from BabyLand General Hospital - birthplace of Cabbage Patch kids, and Alpine Helen for an added treat for kids and adults. Open 7 days a week, stop by for a partial or full tasting experience, relax with a bottle of wine while enjoying the mountain view, or reserve your spot on a 90-minute guided cave tour and tasting excursion. On Saturday's, sample the grape while listening to live musical entertainment.
Lumpkin County
Montaluce Winery in Dahlonega provides a peaceful setting amid the rolling foothills of North Georgia where tastings and tours are available anytime the winery is open. No reservations are required as you enjoy two wine samplings indoors or on the patio. Add to the tastings an assortment of appetizers or a full meal. Before or after the tasting, take the free 20-minute tour of the vineyard at noon on the weekends or 2:00 pm during the week. A guided wine hike is also an option for an up-close look at the winery process.
Gilmer County
Step back in time at Cartecay Vineyards while tasting vineyard varietals at the refurbished Tasting Barn built in 1890. Located in Ellijay, the vineyards are open 7 days a week. Relax with a choice wine at the tasting bar, on the porch or deck, or get warm and cozy around the wood fire stove. When weather permits, sip to the sounds of live music.
Towns County
Crane Creek Vineyards, in Young Harris, takes the tasting experience to a high degree of enjoyment with its vintner's tours, diverse selections of wine at the Bryson farmhouse tasting room, friday evening a la carte tapas and music on the deck, and its peaceful culinary garden. Vineyard tours take place at 2:00 pm every Saturday with reservations required.
Union County
Located near Blairsville, Odom Springs Vineyards is a family owned winery nestled in the Appalachian Mountains. The winery is open for tours and tastings Wednesday - Saturday from 11:00 am to 6:00 pm and Sunday from 1:00 pm to 5:00 pm.
Our RV Resort & Spa
At Crossing Creeks, your tasting and touring adventure will be the best it can be while staying at the 60-acre, five-star resort and spa. Our convenient Blairsville location makes it the perfect starting point for easy access and minimal drive time to north Georgia vineyards. The resort offers full utility hook-ups, concrete padded sites, and the option of renting or owning a lot.
After a day of touring and tasting, join other RVers for socializing at the clubhouse, enjoy the activities center, relax in the pool, work out at the fitness center, or unwind with a massage at the spa.